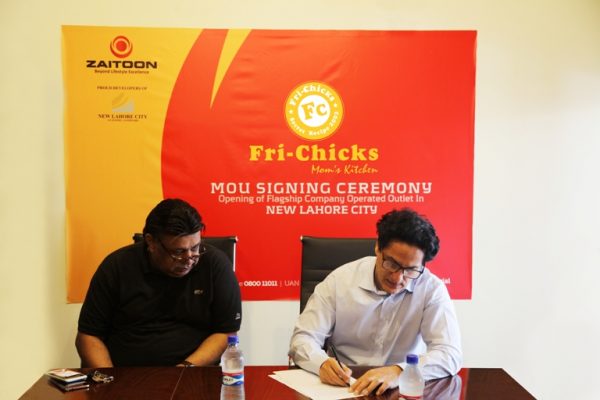 Zaitoon – leading land developer has signed a memorandum of understanding with Fri-Chiks, a rapidly growing fast-food chain. Through this new partnership, the fast food chain will open acompany-operated outlet at ZaitoonNew Lahore City (NLC), the flagship housing project of Zaitoon.
This venture will enable residents of NLC to enjoy the services of Fri-Chiks at a subsidized rate.
The MoU was signed by Mr. Ayaz Anwar, CEO Zaitoon& Mr. S.H. Mehdi, CEO Fri-Chiks in the presence of Mubashir Hassan Khawaja, GM Franchise Development & JV's along with senior management from both organizations.
The Fri-Chiks outlet will be located in a state-of-the-art, three storied plazalocated on Grand Commercial, a 150ft wide main boulevard that runs through the entire project and is an ideal spot for commercial activities.
Mr. Ayaz Anwar, CEO Zaitoon congratulated and thanked the Fri-Chiks team on becoming part of the NLC family. While commenting on Zaitoon New Lahore City, he said, "NLC is not just a housing project; it is a lifestyle choice. Our aim is to nurture a society where families feel safe, secure and can make long-lasting memories with their loved ones."
Speaking on the occasion, Mr. S. H. Mehdi expressed his gratitude to the management of Zaitoon for offering ready to move, fully constructed commercial plaza for their outlet. "We will ensure that this will serve as our flagship store so that not only the residents of NLC but the entire city will be eager to visit and grab a bite at this new outlet", he confirmed.
The outlet will be operational from mid-April. Not just for the residents of NLC, it will also serve as an activity spot for families residing in nearby areas and societies.